Fashion week kicked off in Ukraine with their native daughter Lilla Poustovit launching her fashion line for this year.  Her clothing is found in some of the hottest European boutiques and this romantic woman keeps her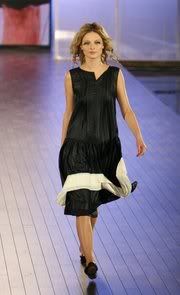 clothing dreamy, elegant and practical.  Shown on the runway the night of October 15, 2008 to kick off the season or 41 shows, her new spring and summer collection is already a big hit.
This year, Poustovit's offerings are classic in their materials and designs, including crumpled silk dresses, graphic print tops, polka dot sheaths and more.  She uses plenty of traditional Ukraine design in her clothing and the results are contemporary and beautiful.  Says Poustovit about her designs, "I had in mind an image of an Adriatic sunset when making this collection. So I wanted something romantic, yet clothes women could understand and wear easily."
The opening show lasted all days with other designers modeling their new collection, some interesting, some boring, and some shining, but not the way Poustovit's collection did.  There models were all Ukrainian models, many from Kiev, and they all enjoyed dressing up and getting a chance to work the runway in some of Poustovit's highly anticipated collection.  The show was in Pushkin Park with seating for 700 and was a huge success.
Blog clothing, collection, events in Ukraine, Fashion, fashion line, fashion week, kiev, Lilla, lilla poustovit, native daughter, Poustovit, Pushkin Park, romantic woman, silk dresses, ukraine, ukraine fashion, ukrainian models, Visit Ukraine