The city of Kiev, capital of Ukraine, celebrated its 1,020th anniversary of its adoption of Christianity on the 16th and 17th of August, celebrating with groups of women in headscarves and a bearded man in all of the billboards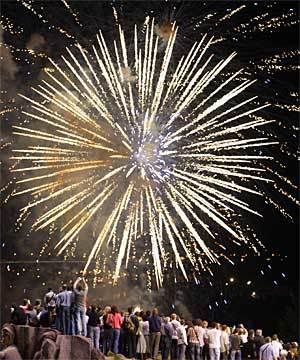 and posters in town.  Kiev is considered the cradle of the East Slavic civilisation and the city itself is older that St. Petersburg in Moscow, Russia.  The celebration dates back to the time of Kievan Rus, circa 9th century, when the country went to Christianity instead of Islamic Asian.  Many of the traditions celebrated by Slavic people and their descendants were born at this time.
Anyone who visited Kiev over the weekend witnessed residents circling and praying at the Pechersk-Lavra, a religious complex founded by St. Antoniy in 1051 and is considered one of the holiest places in Ukraine.  The complex is a group of caves and visitors to it would've witnessed the mummified corpses still contained within.  The Dormiton Cathedral was also filled with pilgrims and even thought the building is a copy of the original that was destroyed, the people don't care.  There were plenty celebrations going on that included good food and plenty of worship services that fit the tastes of everyone in Kiev.
There is also more information available at From Kiev With Love.
Blog Anniversary, capital of ukraine, Celebration in Kiev, Christianity, city, complex, East Slavic, headscarves, Independance, kiev, Moscow, moscow russia, Pechersk Lavra, Russia, slavic people, St. Petersburg, time, ukraine